The rest of our family photos are up over on
Danielle Huddleston Photography's
blog. Check them out they are awesome!
This is my favorite! It is going to be framed and hung on my living room gallery wall. It is so us. To get us loosened up and smiling Gabriel started making shadow puppets on the reflector then Jessica joined him in the fun. I guess we got a little more than smiles.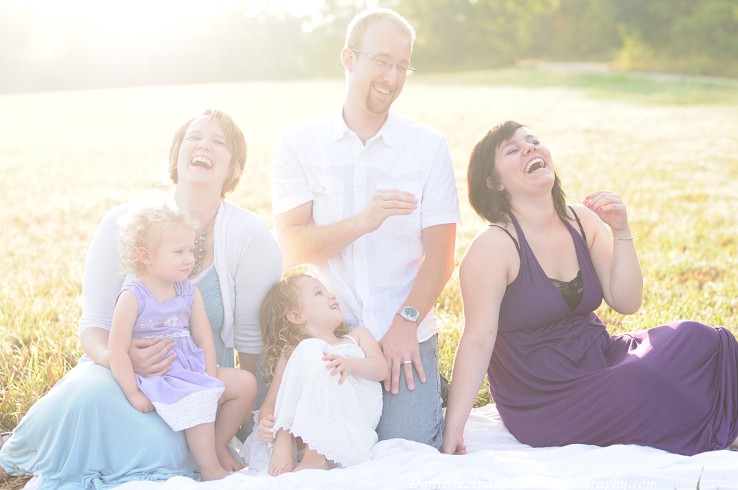 **************************************************************************************
Other "News"
I'm making crinoline slips for Sweet Lily Girl and Little Miss Ava Grace to go under their princess dresses that my mom is making for their birthdays. (Sew Excited about those. HaHaHa) It's a good thing no one will see the slips though because I made a lot of mistakes on the first one. My communication with my mother was laking and measurements were waaaaaaaaaay wrong. I had to "make it work" so that I didn't have to start over. The second one is looking good though. They are almost finished. Just a few finishing touches when final length is determined.
She was being such a good little model.
And Then....
Me: "Ava Grace will you stand back up please?"
Ava Grace: "No, I poopin"
That's probably one of those things that didn't need to be shared. But it cracked me up so I thought "why not"
The shoes are a recent hand me down from my friend Raichelle's little one. Little Miss Ava Grace has been wearing them the majority of the day and part of the night. They fall off sometime while she is sleeping. They are 5 sizes to big but she doesn't seem to care.
Tutorial coming later, or tomorrow or sometime soon after that. Who knows things have been slightly unpredictable these days. Who am I foolin'. Things around here are always unpredictable.